Auschwitz Concentration Camp

Real Name

Auschwitz Concentration Camp

Alternate Identity

Birkenau

Team Affiliations

Nazi
Auschwitz Concentration Camp is from the Non MAU series X-Men: Evolution.
The Auschwitz concentration camp was a network of concentration and extermination camps operated by Nazi Germany during World War II.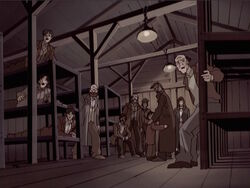 At one point, a young boy was held in the camps by the name of Erik Lehnsherr.
Towards the end of the war, the camp was liberated thanks to the efforts of Captain America and Logan. During their escape, Lehnsherr used his developing mutant powers to save the two heroes from a grenade.
Background
Edit
In actuality, and in the comics, Auschwitz was liberated by the Soviet Union army.
External Links
Edit
Ad blocker interference detected!
Wikia is a free-to-use site that makes money from advertising. We have a modified experience for viewers using ad blockers

Wikia is not accessible if you've made further modifications. Remove the custom ad blocker rule(s) and the page will load as expected.