Deadpool

Real Name

Wade Wilson

Alternate Identity

Deadpool

Team Affiliations

X-Men
Deadpool is from the Marvel Anime Universe series Marvel Anime: X-Men.
Wade Wilson, also known as Deadpool, is a member of the X-Men.
The history of Deadpool is unknown. At some point he joined the X-Men.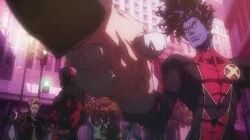 He was with Nightcrawler when Professor Charles Xavier sent out a telepathic call to protect people from the Dark Phoenix.
The two X-Men helped along with Angel, Rogue, Colossus, Captain Britain, and Iron Man.
After the battle, Deadpool and Nightcrawler were thanked by the individuals they had saved.
Background
Edit
Deadpool's appearance was a brief cameo and he did not speak.
Only adapted version to feature him on the X-Men.
In the Comics
Edit
Is crazy and aware of his existence as a fictional character.
External Links
Edit