Fred, also known as Fredzilla, is a superhero and member of Big Hero 6.
Biography
Edit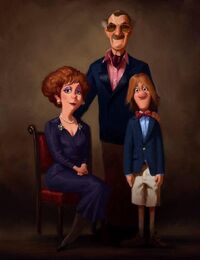 Fred is a fan of monster movies and the school mascot of the San Fransokyo Institute of Technology. When he and his friends became superheroes, he wore a suit that turned him into a fire-breathing monster. After the fight with Yokai, he discovered that his father was a superhero who kept an armory in their mansion.
Background
Edit
Fred is voiced by T. J. Miller in the film Big Hero 6 and Brooks Wheelan on the series Big Hero 6.
Currently the only version of the character outside the comics.
In the Comics
Edit
Actually transforms into a giant monster.
External Links
Edit
Ad blocker interference detected!
Wikia is a free-to-use site that makes money from advertising. We have a modified experience for viewers using ad blockers

Wikia is not accessible if you've made further modifications. Remove the custom ad blocker rule(s) and the page will load as expected.