Galactus
Talk

0
2,997pages on
this wiki
A colossal giant from an unknown world, Galactus cares about no form of life but his own. The only thought that consumes him is how to end the hunger, and the constant search for new planets to devoir. In an attempt to save his planet, Norrin Radd made a deal with the giant, offering to serve Galactus as his herald. Galactus, tired of searching, agreed. Granting Norrin with the power cosmic and wiping his memory, Norrin became The Silver Surfer, and searched for new worlds for Galactus to devoir. Upon reaching a planet called earth, The Surfer pleaded with his master not to destroy it, after meeting Alicia and seeing all the good that the people of earth stood for. After Reed stole one of Galactus weapons, Galactus vowed never to try and feast on earth again.
Later, when Doctor Doom stole the Silver Surfer's powers, Galactus came to Surfer's aid by defeating Dr. Doom. Galactus returned in season two's episode, To Battle a Living Planet. In it, Galactus has a new Herald, Terrax the Tamer. He agreed to save earth from Ego the Living Planet in exchange for Reed Richards removing the vow that Galactus would never feed on earth, making Reed trade an immediate destruction for a distant one.
In the episode, When Calls Galactus, Terrax attacks Earth (Manhattan). Galactus isn't terribly pleased to learn that his herald has defected, so he comes back to Earth to do away with Terrax. One problem, Galactus needs to feed, and the only planet in the vicinity is Earth! Since Galactus no longer has a herald to search out planets for him, he attempts to devour Earth. Thor and Ghost Rider arrive on the scene, but their efforts are useless. As a result, Frankie Raye offers to become Nova, Galactus' new herald. Galactus makes two more cameo appearances in Fantastic Four, one being in Hopelessly Impossible and another in Doomsday.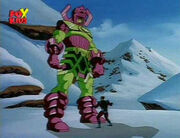 Galactus makes an appearance in almost every episode of Silver Surfer. Here, it reveals how Galactus created Silver Surfer and other evil acts committed by Galactus before the FF.
In Anti-body, Galactus is dying and his new Herald, Nova, enlists the Surfer's aid to help save his life. They enter Galactus' bloodstream, where they must fight not only his antibodies, but also the "digested" souls of his victims. Surfer must make an anguished decision: save Galactus with the knowledge that he'll continue to consume worlds, or allow him to die and lose the chance to find Zen-La again. His final decision is to save Galactus. Nova ends up being torn between her love for Surfer and her duties for Galactus after this episode.
Background
Galactus was voiced by Tony Jay on Fantastic Four and James Blendick on Silver Surfer.
In the comics, Galactus was once Galen. He managed to survive the destruction of the universe when it collapsed and was reborn, turning him into Galactus.
External Links