Hobgoblin

Real Name

Hobgoblin
A hobgoblin is a creature from folklore. Little is known about them but they apparently instilled fear in others.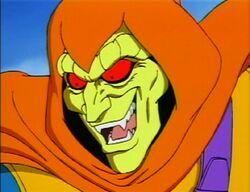 Jason Philip Macendale chose the hobgoblin as his modus operandi when he became the supervillain Hobgoblin. He explained to Alistair Smythe that he wanted people to be afraid of him before he killed them.
Background
Edit
In actual folklore, hobgoblins are small, hairy men who play pranks and are mischievous, but not particularly fear-inspiring.
External Links
Edit
Ad blocker interference detected!
Wikia is a free-to-use site that makes money from advertising. We have a modified experience for viewers using ad blockers

Wikia is not accessible if you've made further modifications. Remove the custom ad blocker rule(s) and the page will load as expected.