Impossible Man is a shapeshifting being from an unknown origin.
Biography
Edit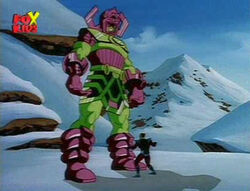 A being of unknown origin, the Impossible Man approached Johnny Storm for help after Super-Skrull was chasing him. After some inspired words from Human Torch, Impossible Man used his shape shifting abilities to transform into Galactus, and kicked Super-Skrull back into orbit.
Background
Edit
Impossible Man was voiced by Jess Harnell.
External Links
Edit
Ad blocker interference detected!
Wikia is a free-to-use site that makes money from advertising. We have a modified experience for viewers using ad blockers

Wikia is not accessible if you've made further modifications. Remove the custom ad blocker rule(s) and the page will load as expected.