Klaw

Real Name

Ulysses Klaw

Alternate Identity

Klaw
Powers

and Abilities

Sonic Gun
Force Glove
Made of Sound

Allies

Mercenaries
Klaw was a supervillain specializing in sonic weaponry. He was responsible for the creation of Black Panther.
Biography
Edit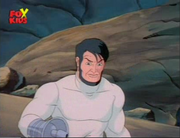 Klaw murdered T'Chaka, the king of Wakanda. The prince, T'Challa tried to avenge his father using Klaw's weapons against him, which resulted in the loss of Klaw's hand. The adult T'Challa took the mantle of Black Panther and sought the help of the Fantastic Four. Together, the five defeated Klaw.
Background
Edit
Klaw was voiced by Charles Howerton.
In the Comics
Edit
He has been part of the Frightful Four, A.I.M., and Masters of Evil.
External Links
Edit