Luciano Pavarotti is an opera singer from Italy.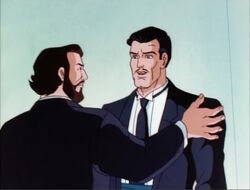 While he was in Italy, Tony Stark held a party aboard his yacht, the Iron Maiden, and invited Pavarotti and Itzhak Perlman. At the party, Pavarotti greeted Tony. However, James Rhodes whispered something to Tony and the two left.
Background
Edit
Pavarotti was voiced by Jim Cummings.
He is based on the real life person.
External Links
Edit
Ad blocker interference detected!
Wikia is a free-to-use site that makes money from advertising. We have a modified experience for viewers using ad blockers

Wikia is not accessible if you've made further modifications. Remove the custom ad blocker rule(s) and the page will load as expected.