| | |
| --- | --- |
| This article is written from the Real World perspective | |
Martin Landau
Born
Martin Landau
June 20, 1928
Brooklyn, New York
Died
July 15, 2017 (aged 89)
Los Angeles, California
Characters

played

Scorpion

Most Known Character
Martin Landau (born June 20, 1928; died July 15, 2017) was an American actor who voiced Scorpion in the first two seasons of Spider-Man. After winning an Academy Award for his role as Bela Lugosi in Ed Wood he became unavailable for the series and was replaced by Richard Moll.
Biography
Edit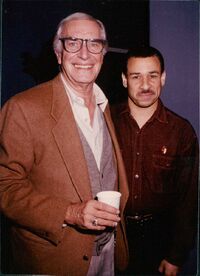 Other notable works include Maverick, North by Northwest, Wagon Train, The Untouchables, Cleopatra, Twilight Zone, I Spy, The Wild Wild West, Gunsmoke, Mission: Impossible, Get Smart, Columbo, Space: 1999, The X Files, Sleepy Hollow, The Majestic, Entourage, Without a Trace, 9, The Simpsons, and Frankenweenie.
He died on July 15th, 2017 following complications while hospitalized. He is survived by his daughters Susie and Juliet, son-in-laws Roy and Deverill, sister Elinor, granddaughter Aria, and godson Dylan.[1][2]
External Links
Edit
Ad blocker interference detected!
Wikia is a free-to-use site that makes money from advertising. We have a modified experience for viewers using ad blockers

Wikia is not accessible if you've made further modifications. Remove the custom ad blocker rule(s) and the page will load as expected.