Shadowcat (X-Men: Evolution)
Talk

5
2,143pages on
this wiki

Shadowcat

Real Name

Katherine Pryde

Alternate Identity

Kitty
Shadowcat
Powers

and Abilities

Phase through solid objects, Shorts out electronics

Team Affiliations

X-Men

Allies

Brotherhood of Mutants
Acolytes

Family and Friends

Avalanche (Boyfriend)
Shadowcat is from the Non MAU series X-Men: Evolution.
Katherine "Kitty" Pryde, also known by the codename Shadowcat, is a mutant and part of the X-Men. She was one of the original students recruited to the team.
Biography
Edit
Early Life
Edit
Little is known about Kitty before she discovered her mutant powers. She was a good child who got along well with her parents.
However, at school she was considered nerdy and picked on by other girls.
Discovering her Powers
Edit
During a dream, Kitty found herself floating before realizing that she had phased though the floor of her home. She quickly began to breakdown and received comfort from her parents, whom realized how she had managed her way into the house's basement. Despite this rather eventful night, Shadowcat decided to go to school the next day, being caught by her mother while trying to go outside. After Shadowcat's mother began to question her decision to leave while bringing up what her father suggested, Shadowcat expressed that neither her father of her wanted to talk about it before succeeding in getting her to let her leave the house.
Acter arriving at school, Shadowcat went in her locker before being pushed in by two girls. Inside the locker, Shadowcat begged to be let out before phasing through and simultaneously slamming into Lance Alvers. Lance chose to introduce himself to her and showed Shadowcat his powers befor she concluded that he was some type of freak before running off. After arriving outside to her gym class, Kitty failed her course, much to the enjoyment of Riley, After Riley was strangely hit by a load of sand during her own run, Shadowcat relized Lance's involvement after he wavd at her before running off and bumping into Jean Grey.
Retiring into the school's auditorium, Shadowcat began to experiment with her powers before being walked in on by Jean, whom she tried to hide from by placing the mask she practiced with in front of her face. Though Jean tried to relate to her, Shadowcat did not believe her initially, thinking her to be one of Riley's friends before she confirmed that she was not. Leaving the auditorium, Shadowcat retreated to her locker and changed clothes before being confronted by Lance. Initially trying to fight him, Lance revealed to Shadowcat that he merely wanted to talk to her before inviting her to see him after school.
Once she got there, Lance began to stress that the world may consider them strange and there may in fact actually be something wrong with them. As Shadowcat began to become depressed, Lance told her that she should not look depressed and offered to help her. She succeeded in phasing through the teacher office and realized that Lance was dangerous after he tried to keep her from her family. After using her powers to save her family, Jean and herself, she told her father that the X-Men were trying to help her and that she trusted them.
Joining the X-Men
Edit
Shadowcat left her home and moved in with the X-Men. There she met the others like Charles Xavier, Cyclops, and Nightcrawler. Shortly after her own induction, another female mutant by the name of Rogue used her powers at a school dance when she was touched by a boy trying to help her up. Meanwhile at the Xavier Mansion, Shadowcat watched Wolverine in the Danger Room and after he got out, caused the X-Men to break into confused silence when she asked if anyone besides her was creeped out by the X-Men's operations before concluding that it was just her. Nightcrawler saw things differently, telling her that she was among friends while teleporting around her, much to her annoyance and actually causing a strain between the two. Xavier ordered the group to come with him to meet Rogue and during their flight to her town, Shadowcat sat behind Jean and started talking to her.
She brought up Cyclops after he gave a few commands and deemed that he was kind of cute before Jean started to rebuke her opinion. This caused Nightcrawler to get jealous of the attention she was giving Cyclops and soon enough, he tried to impress her by teleporting outside of the jet and pretending to be perfectly fine before losing his grip and spiraling, teleporting back into the ship and crashing directly into Shadowcat. Xavier scolded him and told the young man that he had frightened Kitty. Though Nightcrawler apologized for the incident, Shadowcat became completely disgusted by him and told him to merely get away from her before moving to the front of the Blackbird.
After arriving, Shadowcat remained with the others inside a van that was being used primarily to get to Cody, the boy that Rogue had paralyzed and injured. However, they soon found her running and Shadowcat chose to tag along with Nightcrawler, taking offense when Wolverine told him to keep an eye on her. Before she arrived, Nightcrawler and Rogue had a pleasant talk and it seemed as though Rogue was becoming convinced that he was a good person. However, Shadowcat ruined it by jumping into her and causing her to fall to the ground, as well as throw Shadowcat off of her and absorb Nightcrawler's powers by mistake before disappearing. Shadowcat tended to the defeated Nightcrawler, calling out for his name in desperation. However, he did not answer and Shadowcat began to wonder what she would do to make contact with the others before remembering that Charles Xavier was a telepathic and quickly began to cry for help with her mind.
However, she cried too loud, causing much confusion to Xavier and she was demanded to speak again. After he found out what happened, Shadowcat rejoined with the rest of the X-Men and was overjoyed when Nightcrawler woke up, telling him that everything was going to be just fine after he questioned what had happened. The group did not succeed in getting Rouge, but they did succeed in creating a friendship. She also began attending Bayville High School where she met an overweight student named Fred Dukes. He got angry and threw food at others. She asked Jean if he was the guy that she and Wolverine tried to recruit the previous night. Jean told her that he was okay, when he was not ripping lockers off the walls, much to Shadowcat's surprise and stating that what he did was freaky.
Thing took a matter for the worse when Fred accidentally tripped over his table and caused his food to hit Duncan Matthews and some of the other Bayville High School jocks. Though Jean advised her that she should stay behind incase anything went wrong, Shadowcat sarcastically responded that it had not already happened. The fight between Blob and the jocks resulted in Kitty getting hit with food, phasing through the floor to exit and later participating in a training exercise with Nightcrawler, the objective being to keep the ball from the other. Despite getting the ball, Shadowcat ran into a tree and dropped the ball, landing into the hands of Nightcrawler. She got it again before the X-Men learned of Jean being kidnapped by Blob and she embarked with Nightcrawler in the X-Van to save her. However, Rogue had defeated Blob before they even arrived. As Rogue began to run away, Shadowcat stated that she and the others owed Rogue for her assistance.
While Spyke was resting, Shadowcat asked where he was. She later came to tell Spyke, during his training with Wolverine, that his couch had called and ordered him to come to the game that night. While swimming in the pool with Spyke, Kurt, Scott, and Jean, Shadowcat complained that Kurt shed his fur in the pool. She got irritated when Spyke did a cannonball into the pool.
Shadowcat and the other X-Men sat with each other at school, where they discussed Duncan Matthews' then-upcoming party. Despite Shadowcat and the others being united in their opinion of attending, Cyclops did not feel it would be such a good idea. Scott reasoned that Duncan was a jerk, something Shadowcat openly disagreed with and stated that she would attend his party before Scott told her that freshmen were not allowed, causing her to rebuke her opinion and see Cyclops's side of things. She left the group shortly afterwards and rejoined them when trying to get a device from Toad, which they believed to have been used to cause Nightcrawler to disappear. During the encounter with Toad, she was nearly blasted with the device before being told by Jean Grey to dodge and succeeded in doing so. Despite their victory, the X-Men were forced to give him up under the advisement of Rogue, whom ordered that they do so if they ever wanted to see Nightcrawler again.
Shadowcat and the others went with Rogue to the last place she saw Nightcrawler at. Looking at the device with Spyke, the two concluded that it had seemingly trapped him in an alternate dimension. The X-Men's next challenge would be figuring out what they could do to get their friend back to their dimension. While Cyclops prepared to blow it up, Shadowcat told him that she could merely phase through it and quietly short-circuit it. However, she was merely stared at by Cyclops and Spyke in confusion. Telling the two to forget she mentioned it, she questioned Jean as to what was with guys and explosions. As the X-Men succeeded in getting their friend a means of getting to their universe, their mission was halted by both the arrival of the Brotherhood of Mutants and the need for more power for the two to get back home.
Dividing from the rest of the group, Shadowcat fought against the Brotherhood of Mutants leader and classmate Avalanche, whom told her to take a ride on his coaster before slamming his foot into the ground and causing Shadowcat to fall into a wall, phasing through and coming back quickly, telling him that it was a lousy ride. Shadowcat and the other X-Men were able to hold the Brotherhood of Mutants off long enough for the emergence of Nightcrawler and Forge to their world. Shadowcat and the others were happy to have Nightcrawler back, but even more so when Cyclops stated that he had reconsidered going to Duncan Matthews's party. While joking around, Shadowcat tried to check Cyclops's temperature. However, she and the others were tricked by Scott into believing that he was wanting to do a mission in the Danger Room. Shadowcat complained that she could not go to Duncan's party, stating that she was a freshman before Jean told her that she and the others would find a way to get her in.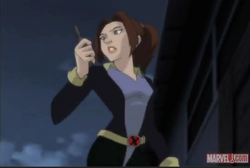 One morning, Kitty had a training exercise with the other X-Men. When Cyclops saw that Rogue was an opponent he stopped the exercise. He argued that since they were still trying to recruit her they should not be fighting her.
Soon after, Rogue left the Brotherhood and joined the X-Men. She and the others found that Principle Darkholme was really Mystique, and that Mystique used her shapeshifting powers to trick Rogue into thinking the X-Men were attacking her.
They became upset that Xavier would hide something like that from them. Kitty and the others encouraged Rogue to speak out about this.
Kitty got into an argument with Rogue when she bumped into a boy named Jason. She flirted with him who asked if she was going to audition for a play. For a school assignment, Spyke was tasked with filming his life along with his friends and family. He filmed Kitty as she began preparing for the play. At the same time, the adults became fearful of an attack and put the school in lockdown. She later argued with Rogue over the music that the two would use to audition with. Spyke came in asking for help with his project. The three snuck away from the school into the nearby woods. Kitty and Rogue danced together while Spyke filmed him.
However, Sabretooth suddenly appeared and attacked them. They were saved by Wolverine. Afterwards he was furious with them and ground the three of them. Spyke eventually turned it in, after Xavier and Storm checked it out first. They were all proud of the work Spyke had done. One night, Kitty woke up along with the rest of the X-Men. They were confronted by Rogue about a dream she had had. Later, Kitty and the X-Men found Nightcrawler with Mystique and began attacking the Brotherhood. Shadowcat fought Blob by phasing through him.
Another night, she was sleeping in bed when her clock woke her up. Half awake, she phased through the bathroom to find Rogue inside. Rogue complained that Kitty did not respect her privacy. Kitty began writing to her parents about the school, the other X-Men, and school. Once, she and Nightcrawler followed Wolverine one one of his solo adventures. They were surprised to see Wolverine attack the two, along with Sabretooth.
Kitty convinced Wolverine that he was under mind control and hugged him. He relented and his claws went back into his hands. The three were attacked by Sabretooth again. This time, he was chased by Wolverine down to a base where he had been controlled. Kitty saved Wolverine after following with Nightcrawler. She malfunctioned a computer that was causing Wolverine headaches. They teleported away to safety. They then brought a badly damaged Wolverine back to the school.
Encountering Magneto
Edit
Some time later Kitty, Spyke, Kurt, and Rogue decided to head to the
beach
for a day of relaxation. While there, they were attacked by the Brotherhood. Blob tried to slam Kitty who phased through him. However, she was still injured and went unconscious.
Rogue, Blob, Avalanche, and
Quicksilver
were considered the winners and taken away in large metal spheres. Rogue refused to go but was knocked unconscious. Toad was left behind with the remaining X-Men, who then began interrogating him. He told them that the Brotherhood's true leader,
Magneto
, was planning on assembling the world's strongest mutants. He wanted to establish a new world order.
The group went back to the mansion and met up with Mystique and Wolverine, who had also "lost." Mystique agreed to help them as she wanted revenge on Magneto for leaving her behind. They boarded a plastic helicopter and found Magneto's base, Asteroid M. Shadowcat and the others attacked the floating base and freed the others.
They found that Cyclops had been reunited with her long lost brother Alex. The two, along with Magneto and Sabretooth, had been enhanced by the Crimson Gem of Cyttorak. Scott and Alex were fighting for Magneto but turned on him. The X-Men and Brotherhood escaped, though Mystique and Magneto were thought dead. Scott and Alex used their enhanced powers to destroy the Asteroid saving them all. However, the overuse of their powers reverted them to normal.
New Mutants
Edit
Between the defeat of Magneto and the expansion of the X-Men with the introduction of the New Mutants, Kitty had not changed much and continued to be a vital member of the X-Men. Shadowcat started to teach the kids, alongside Cyclops, Jean Grey, Rogue, Spyke and Nightcrawler. She continued to dodge the passes of affection that Lance Alvers continuously used to try and attract Kitty to him with.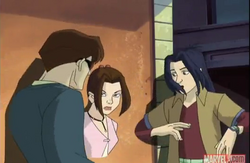 She was with the other X-Men when they watched and cheered Jean on during Jean's soccer game. She rode home with Scott and Kurt after the game and stopped a car during a pursuit by police officers. When they arrived home, she and the others were questioned by Xavier. Scott talked to Xavier about using their powers and believed it was reasonable since it had helped save a life. Xavier agreed with him, but, wanted him to stay low as he still did not believe the world should know of their abilities. Scott reluctantly agreed.
When she sat down during a school meeting, Avalanche tried to talk to her, but, she brushed him off. He, trying to get her attention, used his powers and caused some of the ceiling to come down during principal Kelly's speech about all of the students at the school having special talents and gifts. After Kelly was saved, Kitty turned and looked at Lance angrily.
Avalanche tried to talk to her again, this time, Scott got involved. When Avalanche tried pushing Scott into using his powers, Kitty helped Scott ignore him. She was sitting with the other X-Men when Avalanche and the others announced that they were all mutants. Thankfully, Xavier managed to erase everyone's minds except for Principal
Robert Kelly
.
Kitty once sat during Jean's winning of a trophy and speech, only for Jean to hear everyone's mind including Kitty's. She later talked to Spike about skateboarding becoming a sport, which she declined would happen. She went to science class and briefly talked to Avalanche, before Mr. Hank McCoy arrived and announced that they would be making stink bombs.
She later went with Rogue, Xavier, Nightcrawler, Wolverine, and Cyclops to save Jean from a part of her telepathy and telekinesis, which was going out of control. She phased through an object that was going to hit her, only for it to hit Nightcrawler instead. When he told her to "watch where you're phasing", Shadowcat apologized only to be hit in the back by a bowl.
Shadowcat was walking down the halls at school when Rogue's friend Risty came and asked her if anything fun was going on for the upcoming weekend. She, Kurt, and Spyke deduced that it would be a good idea to have a party while Xavier was gone, but, Rogue quickly shut them down by reminding them of Jean and Scott's situation. When the party started, one of the kids thought it would be a good idea to play unknowingly with the training simulator.
Kitty was surprised to see Scott and Jean back so soon, who she and Nightcrawler had left deserted. She was told by the professor that someone had orchestrated all of this to gain access to the mansion, but they were left wondering who.
When Kurt believed Mr. McCoy had trashed a part of the school, Kitty was hesitant to believe him. She was scared of a test that Friday and quickly ran inside the classroom. Scott asked her what grade she had gotten and she told him she got an A. She was in the room with a several other X-Men when Xavier introduced her and the others to Mr. McCoy, who had recently transformed into a large blue creature. He decided to use the codename Beast.
Kitty was on the phone with a boy named Bobby when Kurt showed up in her room with a masculine build. This turned out to be a part of his image enduser. Shadowcat was at the mansion with some of the other mutants unwrapping presents on Christmas when Nightcrawler dragged around some mistletoe and tried to kiss her. She left with him and the others during Christmas, leaving Rogue, Cyclops, Xavier, and Beast.
After Spyke defeated a villain in Africa, Shadowcat, Rouge, Scott, Kurt, and Jean were happy he was staying with them. The five quickly got away from him after patting him on the back.
Kitty was along with the rest of the X-Men surprised that Lance wanted to quit the Brotherhood up and join the X-Men. She showed him to his room and told him that the others were not going to be easy on him. During an X-Men training course, Kitty asked Lance if he was okay, to which he responded yes. However, Lance vomited shortly after that.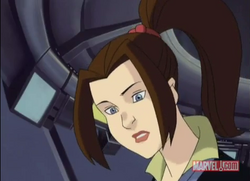 Kitty watched Lance on a mission. Lance succeeded in the mission with the new recruits. Kitty watched as Scott purposely embarrassed Lance in front of the new recruits and Nightcrawler. Shadowcat showed her anger at Scott for doing that by staring at him angrily. Kitty was saved by Lance during a mission where he was supposed to save Rogue. Rogue pushed the two into the pool they had used for the mission. Lance woke her up when the New Mutants took the X-jet on a joy ride. Kitty watched Lance do the right thing by stoping the new recruits. They were attacked by government planes. Upon their return, Scott blamed Lance for the joy ride.
Tired of Scott as well as the rules, Lance decided to head back to the Brotherhood. Kitty tried to convince Lance to stay but he ignored her. Before he left she kissed him on the cheek.
Kitty showed new recruit of the X-Men, Magma, to her first day of school. She told her the basics of what high school was like and bid her farewell.
Kitty went on late night joy rides with Rogue, Jean, Boom Boom, and Magma calling themselves "The Bayville Sirens". They were attacked by several mobsters, she phased through one and punched them in the back. Kitty joined them after their fist few nights and used her powers to help them with easy getaways, such as phasing through a train once.
They were tracked down by several police officers, who were tipped by a man they had helped when his car had been stolen. One female office, who was really Mystique in disguise, let them go and told them to promise to never do what they were doing ever again. She told the female office the leader of the mobsters was in the trunk. The female officer was really Mystique.
One day, Jean had disappeared. Kitty alerted Rouge that the cars were all in the garage during Jean's absence. Kitty went to see if the Brotherhood of Mutants knew anything about her disappearance and noted that Blob had previously tried to kidnap her. Kitty did not know that Jean was really under the mind control of Mesmero, a mutant with the ability to control other people. Kitty was also one of the X-Men put under Mesmero's control, along with Jean, Spyke and Nightcrawler.
Kitty went with the other three to steal several items requested by Mesmero, Kitty helped by using her phasing power to short circuit the cameras and to go through the glass the items were in.
Kitty fought off Wolverine while under his control. She took advantage of Wolverine's inability to hurt her by kicking him in the knee. After being freed from the mind of Mesmero, Kitty had no idea of what she had done during his control over her. This angered Wolverine, who was still mad about her kicking his knee.
Kitty and Beast researched events related to her strange behavior.
Kitty was asked by Rouge if she had asked Lance to the dance yet. She in return, asked Rouge if she had asked Scott and she replied "no". Kitty asked Lance if he would go at school and he accepted. She was with the other X-Men when Wolverine and Nightcrawler came up with the idea of teleporting around the world to get different decorations for the dance.
They had Forge build a device that would extend Nightcrawler's range, but slowed his progress through an alternate dimension that he travelled through. While in there he found it inhabited by large dangerous creatures. Wolverine went with him on a trip to fight them. Afterwards he decided not to use the device at all. At the dance, she watched as monsters from the other dimension attacked and were teleported away by Forge's new device.
Kitty was talking to one boy when she heard Beast wondering why he had become a mutant. She convinced Xavier that it would be a good idea for Beast to take the students who were failing in class to the forest. In the forest, she slammed purposely into the boy she was talking to in the hall because he splashed her camera. Kitty was the only student who sensed that Beast was miserable and asked him if he was okay.
He assured her he was fine. Some time later, local hunters attacked and captured Beast believing him to be the mythical Bigfoot. She and the others saved Beast after he was captured and took down the men who attacked him. Beast reminded her of what she had told him.
Scarlet Witch
Edit
When
Scarlet Witch
was released from prison, Kitty and the other young X-Men were told of her background by Xavier. Shadowcat went with the other X-Men to defeat her, as well as the other Brotherhood of Mutant members. When arriving in the abandoned mall, Shadowcat separated from the other X-Men and went on her own. Shadowcat ran into Avalanche and was told to leave by him, as he did not want her to get hurt. Regardless, Shadowcat ignored him and went up against Scarlet Witch with her teammates. Shadowcat snuck up behind her, about to attack, but Scarlet Witch knew she was coming and stopped her during her phasing in the ground. Kitty yelled out that she couldn't move. This was one of her most fearful moments, probably most fearful because of Scarlet Witch was standing right next to her.
Nightcrawler teleported her out of the ground, but, because of Scarlet Witch's tampering with his powers, she and Nightcrawler were sent outside, on top of a tree. After the defeated X-Men walked outside of the mall, Xavier came to them and gave them a speech in an attempt to encourage them and make them feel more motivated and to try better in their next battle.
Kitty was in a training exercise when Xavier announced that the Brotherhood of Mutants would be their new teammates. She questioned Xavier's seriousness and watched Scott give up leadership of the team and walk away. Scott came back later though.
Mutants Revealed
Edit
When the
Sentinels
were first unleashed, Kitty was one of the first X-Men to fight in the street against it. She was one of the few that managed to get out and away from the Sentinels' freeze gun. She escaped with the mutants that did not get captured. They returned to the mansion only to find it destroyed and that Xavier was really Mystique in disguise. She and the others tried to convince Scott not to attack Mystique so that they could find Xavier.
Kitty stood outside of the destroyed mansion and ran away from the approaching police officers coming to arrest them. She stowed herself in a police car with Jean, Kurt, and Bobby. She met up with everybody at the meet up point and was confronted by Nick Fury. She went with some of the X-Men and tried to rescue the other members. She went with Bobby and rescued the remaining X-Men. She stood upon the ruins of the former Xavier mansion, wondering what they would do now.
On the Run
Edit
Kitty was in a cave with the other X-Men. They were trying to watch Storm and Beast debate with US officials on TV, but her view was blocked. She phased halfway through Nightcrawler and tried to watch them there, but was shoved by him for invading his personal space. She ran from military heicopters when Rogue and Wolverine led the copters to their hideout. She and the other mutants had opted to run instead of fighting the police because Scott thought that if Xavier was there he would have done the exact same thing.
She malfunctioned a weapon system on a chopper with Nightcrawler's help and waved at the pilot before teleporting away. She flew on the Blackbird and watched Juggernaut attack a dam. After Cyclops failed to defeat Juggernaut, Shadowcat helped in defeating him by phasing Rouge close to him so she could steal his powers. They later found Xavier in Juggernaut's prison and rescued him. Soon after the mansion was rebuilt.
Return to School
Edit
Kitty once got up early in the morning to drink milk from the carton, but was caught by Nightcrawler. The two spotted several kids with bizarre mask on and stopped them from doing any damage. Kitty saw their spray painted drawing of the X-Men and was shocked by it. When Xavier announced that the X-Men were going back to school, Kitty was the first to protest against it. At school, Kitty was mad at Kurt for ignoring her and her friends.
Kitty, Rogue, and Scott were pestered by the Brotherhood and Duncan to fight and managed to hold their own not using their powers, she confronted Avalanche directly about messing with them and he seemingly chose not to fight because of what she had said to him. However, since he had the image inducer, Kurt decided to continue pretending that he was a normal human. Kitty forgave Kurt after the day was done and was welcomed back into school after the battle because of Jean's speech.
Kitty and Rogue followed Gambit, which led them to Lance. Kitty continuously questioned Rogue's "plan." When the Brotherhood of Mutants tried to save Quicksilver, Kitty saved Quicksilver's life by phasing through the truck he was in and grabbing him. She and Rogue were told they were given detention for skipping school.
During Scott's project with the Wolverine and a few of the other X-Men, Kitty phased through the ceiling and gave him a cord to help his project.
Terrible Driving
Edit
As she came of age, the others learned that Kitty was a terrible driver. Scott and Jean began to avoid her so they could not be sucked into letting her drive. She noticed Rogue walking by herself and asked her how long it would be until she turned eighteen. Wolverine, unknowingly, took on the task of being with her while she drove and was outright terrified. She drove Scott to which he proclaimed, "I never wanna ride in another vehicle again, as long as I live." One night, Spyke disappeared. She and Nightcrawler went to go find Spyke, who had mutated and had decided to join the Morlocks. Later, she drove Xavier back to the mansion.
Rouge's Powers
Edit
Kitty's fellow member of the X-Men Rogue had faced several difficulties controlling her powers to absorb the abilities of anyone else. Kitty's abilities had previously been taken by Rogue while the two had preformed dances for Spyke. When Rouge's powers went out of control, she ran rampant throughout the city. Kitty and the rest of the X-Men tried to save her and everyone else. They succeeded in stopping her.
Kitty and one of the female students watched Xavier talk to a few X-Men about Mesmero. She left when Bobby came and asked her if she was checking him out. While on a cruise, Kitty and Kurt made fun of Scott and Jean who were off flirting with each other. She went to the spa with some of the other girls later on.
Affections from Multiple
Edit
Around the same time that Rogue lost her powers, Shadowcat had another problem to face: the continuing crush that New Mutant Multiple had on her. She would usually brush him off whenever he tried to talk to her. At the same time of this event and Rogue losing control of her powers, her fellow X-Men Cyclops and Jean started to date. She continuously made fun off the two and often cracked jokes alongside Nightcrawler.
Regardless of her previous denial of him, Multiple still liked her and eventually convinced her to go on a date with him. While at a dance with Cyclops, Jean and Rogue, Shadowcat rejected him and brought up his age. She also referred to him by his first name, possibly as an attempt to show her seriousness. Shadowcat helped Multiple up when Rogue attacked the X-Men present and civilians when she transformed into Sabertooth, Juggernaut and Mystique.
Mesmero Returns
Edit
Kitty woke up late for her last day at school and woke up Nightcrawler. She rushed with the others to school and when Rogue was put under the control of Mesmero, Kitty stopped a few chairs from hitting people. Kitty was sent underground to find any clues revolving around Mesmero's schemes. She pushed a door knob and was ordered to get out of the way.
Kitty went with Nightcrawler and Colossus. She advised Nightcrawler to go back to the top and let her and Colossus continue on. She felt Colossus was very nice and very quiet, this was evidenced when he broke down a wall to find her because "he grew concerned." She and the others were defeated effortlessly by Apocalypse, an ancient mutant from Egypt.
Magneto was killed before her very eyes.
When the Brotherhood stopped innocent people from dying on a train and got recognition for it, Kitty was one of the X-Men upset about this because of their villainous background. She was surprised when Kurt announced the Brotherhood of Mutants had a higher approval rating than the police chief. At the zoo, Scarlet Witch used her powers to throw her into a pool of crocodiles. When she got out, Scarlet Witch trapped her in the wall so she couldn't escape.
She was thrown into jail with the others, even though she could escape anytime she wanted to. She helped in stopping a city wide explosion by phasing a moving train through the other train it was going to collide with. However, this proved to be too much for her. Due to the length of phasing she had to endure and was forced to stop while phasing. She was saved by Nightcrawler. The train itself was saved by Jean and the X-Men were thanked.
She and Nightcrawler both shared a cold. Beast came in to her room and checked on her. Kitty went to see Nightcrawler in his room and was teleported to school in her pajamas. She embarrassingly had to drag Kurt, who was asleep, out of the school, in front of all of her classmates.
She continuously dragged him from downtown, out of a park, and a funeral.
Kitty went bike riding with Wolverine when she crashed over a ridge and fell through. She was saved from being smashed by the side of the cliff falling by Danielle. When Rouge apologized to her for not "having her back," Kitty forgave her. She and Rogue overheard Xavier talk to Danielle. Kitty trained some of the students, doing this by phasing one of the student's legs through the floor.
She woke up the next day looking for Danielle, whose things had been moved. When she questioned Xavier and the others, they claimed to have never met her. She had Nightcrawler help her find Danielle. She was called from a pay phone by Danielle. She eventually found Danielle in a cave outside of her town and with Nightcrawler's help, was able to rescue her and get her medical attention.
Apocalypse
Edit
Kitty watched as Xavier and Storm tried to battle Apocalypse. Kitty was shocked to see the two seemingly vaporized. She was present when Nick Fury arrived and asked for their help. Magneto, Mystique, Xavier, and Storm reappeared as the Horseman of Apocalypse. Each had their powers radically enhanced.
She went to the Brotherhood of Mutants for help, but only Scarlet Witch accepted her offer. She went with Scarlet Witch, Angel, Sunspot and Havok to fight against Magneto. She helped in stopping Apocalypse by holding off the Magneto, but she was knocked out by a Sentinel under Magneto's control as she was trying to convince Scarlet Witch not to hold back against Magneto. Scarlet Witch tried to wake her up but failed.
She eventually woke up when Avalanche moved the ground. After Magneto had been defeated, she helped Avalanche walk after he was injured. When Xavier told them of his glimpses into the future, she stood with the X-Men and listened to his speech. Xavier saw that Kitty was still on the the X-Men, which included Colossus, Iceman, and X-23.
Powers and Abilities
Edit
Kitty can phase through any solid objects. She can also bring other people and objects with her. Kitty has limits to how long she can stay phased and how much she can phase with her. She can phase a car with apparent ease, though a train proved too much for her. Her powers made her able to easily dodge attacks from Blob, who'd probably could have easily defeated her when she had fought him before.
Her phasing ability allows her to short circuit electronic devices. At some point, her powers do have limits. She cannot stay phased to moving objects, especially large ones, very long. Though, whether the size has to do with anything is debatable. She can phase through walls very easily, even being able to do it with stealth and ease.
Personality
Edit
Kitty Pryde is a generally upbeat and cheerful girl. She was considered virtuous in almost all respects. She was a loyal friend, and was always willing to help others in need. She is a good student, though has trouble with gym class.
When she joined the X-Men, she saw herself as an asset of the team. Early on during her time with the X-Men, she was both frightened and amazed by the whole logic of a mutant team to help mutants. She gave her teammates someone to watch over and teach, specifically Wolverine.
Overtime, she became serious during battles, such as her final battle with Apocalypse. During her fight, it seemed as though she became the leader of her group, mainly when she gave Scarlet Witch orders to not hold back against Magneto.
Relationships
Edit
Lance Alvers
Edit
They say opposites attract, and that was never more true than with Kitty and Lance. Lance is a slacker, abrasive, and generally interested in only himself. Yet the two continue to show attraction to each other.
Lance was the first boy to take an interest in her and reassure her that her powers were something to be welcomed. They went out a few times and were a couple for a while but never really made it a couple. They went to the school dance together, and even though he is an enemy of the X-Men still has a soft spot for Kitty.
Lance tried to join the X-Men, mostly to get close to her. Though he tried, he found that it was better to be with the Brotherhood while still trying to date Kitty.
When the Brotherhood teamed with Duncan to embarrass the X-Men, Kitty took Lance's actions personally and apparently broke their relationship off. He took this to heart and tried to gain her trust again.
They apparently reconciled after the battle with Apocalypse, where he came to save her.
Kurt Wagner
Edit
Kitty and Kurt's friendship did not start out easily. She was creeped out by his demonic appearance and his constant attempts to flirt with her. She eventually warmed up to him and they became friends. The two occasionally argued, but never seriously.
Background
Edit
Shadowcat was voiced by Maggie Blue O'Hara.
First time that she has used the codename Shadowcat. On Spider-Man and His Amazing Friends she was called Sprite and on "Pryde of the X-Men" she was just Kitty Pryde.
First time Kitty appeared in animation since she appeared in the proposed "Pryde of the X-Men" pilot, named after her. In it, Kitty was the newest member of the X-Men. However, her characterization was highly criticized as being annoying and whiny. When X-Men was produced, Jubilee essentially filled the same role with the same criticisms. This was largely why Kitty was absent from the series.
In the Comics
Edit
She can actually "walk" on air using her phasing abilities. Also, during phasing she is resistant to telepathy.
Colossus, Storm, and Wolverine went to recruit her. Emma Frost was already there trying to get her to join the Hellfire Club.
She has also gone by the names Sprite and Ariel.
She formed a friendship with Storm, who she thought was nicer than the other X-Men.
Formed a father-daughter relationship with Wolverine. She went with to Japan with him and fought as his sidekick.
Has a pet alien dragon named Lockheed, named after the company that made the Blackbird.
Xavier forced her into the New Mutants, who were all in her age group. She then impressed him enough to rejoin the X-Men.
Dated Colossus, before he died and after he came back to life.
Was trained by Wolverine in Japan. The two developed a close father-daughter relationship.
Joined S.H.I.E.L.D. for a time.
Joined an X-Men team lead by Cyclops, which consisted of her, Beast, Emma Frost and Wolverine at the start.
She sacrificed herself to save the Earth and all of humanity by phasing herself through a silver bullet and going off into space. She returned afterwards. However, due to her long exposure to the bullet, she was permanently stuck in her phased form and unable to touch or be touched. After she was slain during a mission with the X-Men, she was resurrected and able to touch again.
Has been a teacher at Xavier's school and even headmistress.
External Links
Edit