The Solomon R. Guggenheim Museum is an art museum in New York City.
During the Atlantean Invasion of New York City, the armies of Atlantis destroyed the building.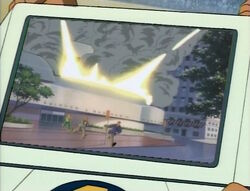 When the Skrulls built a video game for the Fantastic Four, they included the Guggenheim's likeness. In the game, Skrull ships destroy the building as people ran.
Background
Edit
Footage from "Incursion of the Skrulls" and "Now Comes the Sub-Mariner" featuring the Guggenheim is the same.
External Links
Edit
Ad blocker interference detected!
Wikia is a free-to-use site that makes money from advertising. We have a modified experience for viewers using ad blockers

Wikia is not accessible if you've made further modifications. Remove the custom ad blocker rule(s) and the page will load as expected.