| | |
| --- | --- |
| This article is written from the Real World perspective | |
Note: this article describes an upcoming release.
Spider-Man: Into the Spider-Verse is an upcoming animated feature from Sony Pictures Entertainment. It will be the second animated theatrical film based on Marvel Comics after Big Hero 6 as well as the feature-film debut of Miles Morales. It will be released December 14th, 2018.
The eighth Spider-Man film and first to be animated.
Released the same year, and after, as the Spider-Man related film Venom.
Writer/producers Lord and Miller previously made Cloudy with a Chance of Meatballs, which featured Neil Patrick Harris. Harris was the voice of Spider-Man on Spider-Man: The New Animated Series.
Actor Brian Tyree Henry is a main cast member on Atlanta, which was created by and stars Donald Glover who was the first to play Miles Morales on Ultimate Spider-Man.
Feature film debut of Miles Morales, though he was alluded to in the Marvel Studios film Spider-Man: Homecoming.
Feature film debut of Gwen Stacy as Spider-Woman. The character appeared in three previous films but without powers.
The second film of 2018 to feature the Gwen Stacy/Spider-Woman after the made-for-television film Marvel Rising: Secret Warriors.
Lily Tomlin, who plays May Parker, previously appeared on The West Wing and Grace and Frankie along with Martin Sheen, who played Ben Parker on The Amazing Spider-Man.
Peter's grave states he lived from 1991 to 2018, making him about twenty-seven years old at the time of his death.
Miles has posters of Batman and Superman, the two biggest superheroes from Marvel's main competition DC Comics. Writer/producers previously made The Lego Movie, which had Batman as a major character while Superman appeared in several scenes. Batman has a blocky art style as a reference to that film.
There is a sign on the side of a bus and a billboard for Koca-Soda clearly in the style of Coca-Cola.
There is a billboard for a Yugo. Also known as the Zastava Koral, it was a highly derided car sold in the mid-1980s to early 1990s. Apparently, in both Peter and Mile's universes they are still popular.
Miles looks at a collection of Spider-Man's suits including the Secret Wars suit, Electro-Proof suit, and Spider-Man's Advanced Suit from the Playstation 4's Spider-Man game also released in 2018.
In Miles's universe, the New York Police use the initials PDNY.
The side of Jefferson's police car says "COURTESY PROFESSIONALISM RESPECT" with CPR highlighted.
When Peter is training with Miles in their red and blue outfits, Peter bears a resemblance to Pavitr Prabhakar, the Indian Spider-Man.
Gwen Stacy was originally the girlfriend of Peter. The Spider-Woman Gwen became the girlfriend of Miles.
Both Peter and Miles stand atop a cat-like metal statue jutting from a building. This is a reference to the earlier 2018 film Marvel Studios's Black Panther, where in one early poster had Black Panther atop a similar looking statue.
Spider-Man stops a speeding elevated train by standing in front and shooting webs as the passing buildings, just like Spider-Man 2. Though this time he keeps his mask on.
Spider-Man kisses Mary Jane Watson upside down in a reference to the 2002 film Spider-Man, which was the background for Spider-Man: The New Animated Series.
Spider-Man sits in a cafe with Mary Jane Watson when a car smashes through the window, just like in Spider-Man 2. Though this time he is in costume and punches the car back outside.
The car that comes into the cafe is a BMW sedan of some kind.
In one multi-panel shot, Spider-Man can be seen fighting Scorpion, Doctor Octopus, and giant green creature that could be either Green Goblin or Lizard.
In the True Life Tales of Spider-Man comic, Spider-Man fights Chameleon. The cover is a renamed version of The Amazing Spider-Man #186.
Songs in the Spider-Man Christmas album include: Spidey, It's Cold Outside, Swingin' Around the Mistletoe, Silent Night (You're Welcome), Joy to the World (That I Just Saved), Spidey the Snowman, It's Beginning to Look Like a Non-Denominational Holiday, and Ave Maria. Of those, only the last one is the actual song instead of a Spider-Man-based twist.
Jefferson Davis's police car has the license plate RFD-960, a reference to New York-based crime series Law & Order as the number of the plate the police detectives drive. Mahershala Ali appeared on Law & Order: Special Victims Unit.
Spider-Man (Noir) is the tallest of the superheroes.
When Miles chases after a train, he passes a sign that says Perry Joe, a clear reference to Joe Perry who made the theme song for Spider-Man.
Ganke reads a Imagine That... comic produced by Marvel Comics, obviously inspired by Marvel Comics What If. Appropriately, it is titled "There was more than one Spider-Man".
First version of Ganke Lee outside the comics. Though the Marvel Cinematic Universe version of Ned Leeds is obviously based on Ganke.
Tombstones usually give the month and day of birth.
Continuity
Edit
A post-credits scene for Venom, released two months earlier, is actually a clip from this movie, featuring Miles escaping from Prowler before meeting and knocking out Peter. It is proceeded by the title card "Meanwhile, in another universe..." indicating that the two movies may exist in the same multiverse.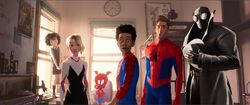 On April 13th, 2017 The Hollywood Reporter revealed Shameik Moore had been cast as Miles Morales and Liev Schreiber had been cast as the film's villain though did not specify the role.[1] While filming Dope, Moore kept a journal. The first two things he wrote were "I am Miles Morales" and "I Am Spider-Man".[2] Lord and Miller hired Moore after seeing in him that film.
Moore told Entertainment Weekly, "This power is kind of handed to [Miles] when he's not really looking for more responsibility. That phrase 'with great power comes great responsibility' it means the same thing, but it comes from a different place with this Spider-Man." He also said, "Everybody has a purpose and a reason and a place. I think that's what [Miles's] conflict is, finding his place. He's like, 'If there's Peter, then how do I be Spider-Man? Can you teach me? How do I do this?'"[3]
Moore said of accepting the role, "I feel blessed and feel chosen. There's a lot of black people, a lot of latino people. I'm sitting in front of you so you know I took a private jet, two private jets in the last six months. I took two private jets in the last six months. It's been life changing, is what I'm getting at. New experiences; I have a desire to inspire youth and others, to be a positive role-model. I think this is a good way to start. [Johnson's] character definitely holds it down for the OG Spider-Man, don't you think?"[4]
Moore had considered giving Miles a Brooklyn accent. "Personally you know I worked on the show called The Get Down and I was representing the Bronx. A New York accent is a New York accent so I wanted to talk like I was from New York you dig you know I wanted to get into that with Miles but they were like 'Nah, Moore we want everybody to understand this stuff.' So I think it is a little bit more like if you're from New York you'll get it. In the trailer so it shows a moment where Miles is flipping off of the building and he's like going head-first down he's like 'BROOKLYN!' Those moment's people will get."
On June 6th, 2018, Variety confirmed that Schreiber, whose role was initially kept secret, was playing Wilson Fisk/Kingpin.[5]
On June 21st, 2017 Tracking-Board reported that Oscar-winner Mahershala Ali was cast as Miles' uncle Aaron Davis while Brian Tyree Henry would play Miles' father Jefferson Davis. Ali had previously played villain Cornell "Cottonmouth" Stokes on the Marvel Netflix series Luke Cage.
A middle-aged Peter Parker will be a mentor to Peter.[6] Sony announced at CinemaCon on April 24th that Jake Johnson will play the original Spider-Man.[7]
Johnson said of Peter, "This is Peter Parker at forty. This is Peter with a bad back who doesn't know if he wants to be Spider-Man anymore, and then he meets Miles who needs a mentor and Peter doesn't really want to be a mentor but he sees something really special in this guy."[8]
In another interview Johnson said, "I was really glad Wonder Woman happened and we had a female superhero. I think all different types of people in power doing showing that to young people is great so I'm really excited we're going to watch this movie I think it is a positive movie. I think for those original kind of OG Peter Parker Spider-Man fans, you're going to get it. He's here. I really like Peter Parker so for me I really like reading these scenes and getting to go there he is but he's forty now and he's tired now. But I also really like to act with Moore and see Miles and when we do it in the booth together so in the scenes I get to hear it and be like oh that's a cool new take. And then Gwen comes out and there's a female Spider-Man. So I'm excited for people to see this movie this movie and a whole new fanbase to check it out in this kind of new way and I think that's really exciting."
Johnson said of recording, "This has been unique. Mostly you'll do for a movie at least that I've been a part, or a TV show, you'll do a few different sessions and they get everything they need or you say a line ten different ways. This we've been in the booth over and over; I think I put over seventy hours in a booth of just doing scenes. Every scene in this movie I feel like I've recorded twenty-five to thirty different times and then it times we get to do it together at times you're alone and then they'll make a slight tweak and you go at it again and you take another swing on it. I know Chris and Phil really likes to work in a way where they're always opening things up and always wants to test things out and try new things so it has been a lot of collaboration. While they do have a really solid script so we have improvised but we're not adding ourselves into it because they've really built this thing. But once you're in a scene you know, if Moore and I are doing a scene together and it's going and we're making eye contact and we're no longer reading the lines but we've done the scene a lot and we know how it ends, they do like when you're in your present you're acting so it feels a lot of an organic."
When asked what would surprise audiences about Peter, Johnson replied, "I don't think it's the Spider-Man you're totally used to, I think it's a more realistic Spider-Man. It's what would Spider-Man would look like if he were real and he wasn't doing his cool Spider-Man things which I think is really fun. I think it's the dirty corners of Spider-Man that rarely get revealed in superhero movies. They pretend to like waking up late make you a regular person. That doesn't make you a regular person. This shows Peter Parker as a real human being who happens to have this ability because he was bit by a spider but he is a real person so I think this movie actually shows that real person getting older and getting older on its own and mortality is real for everybody. He just happens to be Spider-Man."
Moore said of Miles' relationship to Peter that he "just wants a teacher, he doesn't want to be a hero, he doesn't want to be anything but a student. Then he finds this guy, Peter, who doesn't want to help him but Miles needs it."
In a separate interview, Johnson said of the relationship, "Well I'll say with Peter first I think Peter's forgotten why he loves being Spider-Man and that he's forgotten what a gift it is to have all this I think he's at a point where he's forgotten what he lost when he stopped being Spider-Man and seeing a young person first fall in love with the ability to be Spider-Man and how great it is to have this special gift. I think Miles for Peter is the spark plug that thing that remind you of how good you got it." He and Moore both said that their characters were each others' best friends at the end of it with Moore saying, "At first I was going to say like a father figure, but no. Obviously you know people connect and become friends for a whole bunch of different reasons Spider-Man is a great way to become very close."
Additionally at CinemaCon, Sony announced that the film would feature Green Goblin, Kingpin, and Prowler. No actors were announced, though in the Ultimate comics from which Miles comes from his uncle Aaron Davis became Prowler rather than the original version of Hobie Brown.[9]
The day the first full trailer was released, writer/producer Chris Miller announced that Hailee Steinfeld, Luna Lauren Velez, and Lily Tomlin were cast.[10] At the time, only Steinfeld's role was revealed as Spider-Woman/Gwen Stacy popularly known as Spider-Gwen.[11]
Steinfeld was excited to be a female superhero with a great relationship to her co-stars.
On July 3rd, 2018, Discussing Film announced that unnamed sources confirmed that Academy Award winner Nicolas Cage was added to the cast as Spider-Man Noir.[12] At the Sony panel at San Diego Comic-Con, Cage was officially confirmed along with Kimiko Glenn as Peni Parker and John Mulaney as Spider-Ham.[13]
In discussing his role, Cage told Entertainment Weekly, "There are multiple Spider-Men in different dimensions that are kind of colliding together. My character's Spider-Man Noir. He's really Peter Parker from the '30s. I tried to channel those noir films with [Humphrey] Bogart, and have those kinds of sounds that he might make with [James] Cagney, or Edward G. Robinson, that kind of way of talking. I tried to give the character that. It was a lot of fun. I think it should be quite funny. The movie definitely has a sense of humor, and that's a good thing because it's good for the whole family."[14]
Stan Lee, who has a cameo is most Marvel works, had his part revealed during the screening of the first thirty minutes at New York Comic Con.[15] This is the second Lee cameo in a Marvel animated feature following Big Hero 6, his second animated cameo of 2018 following Teen Titans Go! To the Movies, and third animated movie total.
Production
Edit
Rumors about the film were first circulated on December 9th, 2014 following the Sony Pictures Entertainment hack. The Wall Street Journal attained some emails taken from the hack. The emails suggested that Phil Lord and Christopher Miller, coming off the success of The Lego Movie and 22 Jump Street, would direct an animated feature.[16]
On April 22nd, 2015, Sony officially announced the film at CinemaCon.[17]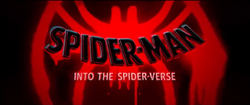 At the time it was reported that this depiction of Spider-Man would not be a part of the The Amazing Spider-Man series or Marvel Cinematic Universe.
It was slated for a release on July 20th, 2018. Sony then shuffled several of their release dates pushing this film back to December 21st.[18]
Here is the official press release:[19]
On July 20, 2018, Phil Lord & Christopher Miller the directors of The Lego Movie, Cloudy with a Chance of Meatballs, and 21 and 22 Jump Street, are taking Spider-Man back to his graphic roots with the first-of-its-kind animated Spider-Man feature, it was announced today at CinemaCon by Tom Rothman, chairman of the Sony Pictures Entertainment Motion Picture Group. The film will exist independently of the projects in the live-action Spider-Man universe, all of which are continuing.

Lord & Miller are masterminding the project, writing the treatment and producing the film.

As previously announced, Spider-Man will next appear in a live-action Marvel film from Marvel's Cinematic Universe (MCU). Sony Pictures will thereafter release the next installment of its $4 billion Spider-Man franchise, on July 28, 2017, a live-action film being produced by Kevin Feige at Marvel and Amy Pascal, who oversaw the franchise launch for the studio 13 years ago. The animated film from Lord & Miller, dated July 20, 2018, has Avi Arad, Matt Tolmach, and Pascal also serving as producers.
On May 27th, 2016, Heroic Hollywood reported from unnamed sources that the film would follow Miles Morales, the second Spider-Man of the Ultimate Universe. They also reported that the film would be called either Miles Morales: The Ultimate Spider-Man or The Ultimate Spider-Man: Miles Morales. They also reported that the film would be connected to the Marvel Cinematic Universe.[20][21] On January 18th, 2017, Sony Pictures Animation president Kristine Belson spoke at a slate presentation officially confirming that Morales would be the star of the film. At the presentation Lord and Miller said of the project, "What inspired us the most is that anyone can wear the mask. You can be any race, creed or color." They also showed a clip of some early development and exploratory art work. It showed the Morales Spider-Man on the streets of New York in a dark mood in the style of a graphic novel.[22]
On June 20th, 2016, Sony announced their plans for their upcoming animated features. They announced that Bob Persichetti would direct the film.[23]
Lord said of the film, "We wanted to make a movie about Miles. The thing that's excited to us is the idea that anyone can be behind the mask." He continued to say, "It seemed like a really good opportunity to subvert your expectations of what you thought a Spider-Man movie could be."[24]
At Comic-Con, Miller said of the film, "We wanted to make a totally unique experience that felt like you were walking into a three-dimensional comic book."
Ramsey said of the project, "Comics fans have known Miles for a while, but the world at large doesn't know him. They don't have experience dealing with a new character in this mantle."
Lord and Miller said that they were most intrigued by how to put a new twist on a superhero origin story that's been told so many times in the last fifteen years. Lord said, "Everything good we've ever done has started with a bad idea. And then we slowly figure out a way that seems like it would be surprising. An animated Spider-Man movie, on the surface it felt like, well, do we really need that? But you start to think about the opportunities that it gives you. Because it's like the nineteenth Spider-Man movie, it forces you to make different choices than everybody else."
In an interview, Ramsey said of Miles, ""We see in the movie. He definitely is a character who's torn between different paths to take. When he meets Peter Parker, Spider-Man, who's the only person he knows in the universe that can really understand what he's going through. That kind of becomes the core of how he finds his way to make a choice as to what kind of person he is going to be. So it very much is a story of a young person looking for 'what's the path for me'?"[25]
Rothman added, ""That's very specific to Miles story. He has a family around him, an extended family around him. And a lot of his struggles as a teenager involve his family and reconciling things with his family and that for us is part of the heart of the comic books, so it's part of the heart of the movie."
Persichetti also said, "I think your point of seeming that he has a lot of mentors, or possible mentors in his life is a big part of this. And it's how to deal with many different influences and find his own unique voice and distill all these different messages from many different points of view and take them in and have his own unique point of view. And that's the thing that we're really trying to successfully land. Is that, you can have all these different influences and you're not obligated to follow any of them. But they can all influence your path. So that's really what we are trying pull off." Rothman responded, "Ultimately you have to make the choice. Figure things out for yourself."
In another interview, Persichetti commented on the differences between Miles and Peter. "We're adapting Bendis' story, so in that sense it was a great place to start. Miles is and amazing character, he has a lot of people around him that influence in his life and that was really was sort of the catalyst for the story we were telling. This is the first time we seen the Spider-Man in an origin story where we have both parents and I mean it's like it's the exact opposite of Peter in a way where we have too many mentors and we made that part of the process that Miles has to go through to become Spider-Man. He has to figure out how to how to take in all these voices and then find his own voice within that."
In discussing the creation of Miles, Persichetti said, "Another thing that I think is pretty interesting is when Miles first came out in comics, 2011, he was kind of the first of this wave of characters of different ethnicities taking on the identities of classic heroes and stuff like that and since then that idea has become pretty normalized. So coming out with the Miles Morales movie now I think part of the task was to say okay it's not just that you're plugging someone of a different background into the costume into the movie It's how do you really flesh out what being a different background is. So there's a lot of details of Miles' life, where he grows up, what his family life is like, what the school is like, what is the neighborhood like. One of the ideas is this is about New York and its different boroughs being like really specific characters. What is Brooklyn like now. What is Queens like now."
The film took about three years to complete. Peter Ramsey said that was crazy as far as what they were able to accomplish in that time. He said they put a lot of "Blood, sweat and tears and anguish" into making it also adding "But a lot of love and a lot of passion." He also said, "The minute we knew this was the Miles Morales story, we knew we had to introduce a new Spider-Man who has to speak to people in a new way." The intention was for the audience to "go on this journey with him and want to see him succeed, see the story though his eyes, and really let him live as a character."[26]
Animation
Edit
The animation is computer generated. This is the first Spider-Man film to be animated and second Marvel theatrically released animated film after Big Hero 6.
The animation contains deliberate errors, halftoning, and other stylistic choices to imitate a classic comic book look. It also features speech bubbles at various times. Miller said of the text bubbles, "The idea was: Let's make a movie that feels like you're walking into an immersive comic book." Lord said, "We were just really intrigued with the possibility of making an animated movie in a completely different way with a completely different set of characters that didn't have to abide by the normal rules. A big franchise can either back you into safe choices or it can give you the opportunity to take huge risks. And that risk version was what was intriguing to us."
At the time of the Comic-Con panel, the movie was about fifty-five percent complete. Persichetti said of the animation, "We have a really big animation crew now because the animation is kind of so hard, takes so much time so that the amount of animation each individual animator produces is a lot less than usual now we have like a hundred and forty two animators right now which for one of these movies is a lot."
When asked about the different animation style, Persichetti said, "That was the goal. That was the drive. We're going to make another Spider-Man movie, why? Because it's Miles. Wonderful. We want to do animated but we don't want the animation to feel like animation by Pixar or Disney or DreamWorks, all these places that we've all mostly been a part of. We don't want that so I want something that that honors where Marvel and Spider-Man came from, your comic books, and we looked at that. We're not going to have any rack focus on this movie we're going to do this and it's like this offset printing thing, we're not going to have any kind of motion blur which for CG that's like death. There is not a single motion blur in our movie and that alone is was like 'I'm sorry?' We spent more than a year really banging away trying to create a style of animation that felt looks different and it's still all CG."
Daniel Pemberton is providing the musical score for the film.[27] He received credit for the use of his music in Venom.
Rapper Post Malone will have a song featured on the soundtrack called Sunflower.[28] Malone debuted a ten-second clip on The Tonight Show Starring Jimmy Fallon.[29]
Promotion
Edit
Sony Pictures Entertainment held a panel at the 2018 San Diego Comic-Con to talk about the film. The panel included Shameik Moore, Jake Johnson, Hailee Steinfeld, Christopher Miller, Phil Lord, Peter Ramsey, Rodney Rothman, and Bob Persichetti.
A clip for the film was shown after the credits of the Sony film Venom, released two months earlier. The clip shows Miles dressed as the original Spider-Man running away from Prowler before escaping him on the streets. He visits the grave of Peter Parker apologizing for not living up to his name, and then knocking the visiting Peter unconscious. He realizes this man is wearing Spider-Man's suit and escapes with him fleeing the police. The clip features the voices of Shameik Moore and Jake Johnson as well as Daniel Pemberton getting credit for his music. See Continuity.
The first thirty-five minutes of the film was screened at the 2018 New York Comic Con. Miller, Lord, Moore,, Johnson, Brian Tyree Henry, and Lauren Velez attended a panel following the film. Lord said of the film, "Maybe we can use the fact that this story has been told a lot of times to our advantage, so the expectation is how can we make it differently.". Co-director Persichetti said, "This was our chance to lean into a medium that was just made for Spider-Man. How can we take advantage of this medium that has been expressive for so many years and tie it to the original source material, which is a comic book?". He added that they decided to "lean into flash frame and visuals that are reminiscent of drawings but figure out how to do it with a computer, which is its own giant task." Johnson compared the relationship of Peter to Miles as Mr. Miyagi. Henry said of the film's representation, "To see a black boy and his father, you don't really get to see that."
First Trailer
Edit
Second Trailer
Edit
Behind the Scenes
Edit
NYCC Interview
Edit
References
Edit
External Links
Edit