Turkey

Turkey balloon dressed as a pilgrim

Real Name

Turkey
Powers

and Abilities

Flight
Turkey is from the Non MAU series The Spectacular Spider-Man.
A turkey is a large bird that is often used as food. It has become the symbol of Thanksgiving Day as it is usually served as the main course of the Thanksgiving feast.
For food, the birds are plucked and cooked in an oven.
One Thanksgiving, the Thanksgiving Day Parade held in New York City had a large turkey Parade Balloon dressed like a pilgrim.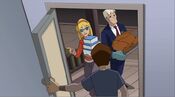 That same day, Gwen Stacy began cooking one early in the morning. After she had been kidnapped by Venom and saved by Spider-Man, she and her father George Stacy took the turkey along with other foods to the Parker Home at the request of Peter's Aunt May. George, Gwen, Peter, May, and May's doctor Bromwell ate it up.
External Links
Edit