Wolverine

Alternate Identity

Wolverine

Allies

Deadpool
Wolverine is from the Funko Universe short Chimichangas.
Wolverine is a figure associated with Deadpool.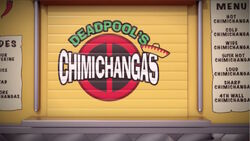 Little is known about Wolverine. For whatever reason, Deadpool had a menu item on his chimichanga truck for "Sour Wolverines" as a tribute to him.
Background
Edit
Despite not being seen, he is the only character in the Funko Universe that is actually named.
External Links
Edit
Ad blocker interference detected!
Wikia is a free-to-use site that makes money from advertising. We have a modified experience for viewers using ad blockers

Wikia is not accessible if you've made further modifications. Remove the custom ad blocker rule(s) and the page will load as expected.