Wolverine

Alternate Identity

Wolverine

Allies

Deadpool
Wolverine is from the Funko Universe short Chimichangas.
Wolverine is a figure associated with Deadpool.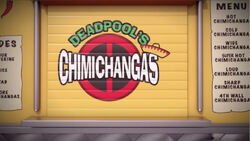 Little is known about Wolverine. For whatever reason, Deadpool had a menu item on his chimichanga truck for "Sour Wolverines" as a tribute to him.
Background
Edit
Despite not being seen, he is the only character in the Funko Universe that is actually named.
External Links
Edit